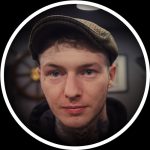 Luke Sayer Interview
Mai 16, 2019

Mai 16, 2019

de

https://www.killerinktattoo.de/skin/frontend/killer/default/images/logo.svg

https://www.killerinktattoo.de/
Luke Sayer hat sich mit seinen realistischen Black and Grey Tattoos im Laufe der Jahre einen hervorragenden Ruf und eine große Fangemeinde aufgebaut. Es war daher an der Zeit, ein Interview mit ihm zu führen und näheres über ihn zu erfahren.
Wir sprachen mit Luke über alles, was mit Tattoos zu tun hat, einschließlich der Frage, wie er die erste Folge von E4's Tattoo of Artist of the Year 2017 gewinnen konnte.
Das musst du dir ansehen!
Luke Sayer, ein von  Killer Ink Gesponserter Künstler des Monats, arbeitet momentan in seinem eigenen Tatoostudio in Milnthorpe, Cumbria, wo auch dieses Video gefilmt wurde.
Bleibe auf dem neuesten Stand, indem du im auf Facebook, Instagram und Twitter folgst!