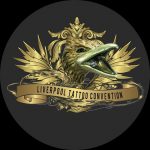 Killer Ink Tattoo auf der Liverpool Tattooconvention
Mai 31, 2017

Mai 31, 2017

de

https://www.killerinktattoo.de/skin/frontend/killer/default/images/logo.svg

https://www.killerinktattoo.de/
Was gibt es schöneres an einem sonnigen Wochenende, als auf die 10te Liverpooler Tattooconvention zu fahren?
Anfang des Monats sind wir zur Tattooconvention in unserer Heimatstadt gefahren und haben ein Video mit unseren Freunden, gesponserten Künstlern und einer Gruppe Frauen, die mit Feuer spielen, gedreht.
Schaut es euch unbedingt unten an!
Die 2017er Convention feierte Ihr 10-jähriges Jubiläum mit live Tätowierungen von über 250 Künstlern, live Musik sowie fantastischen Shows von den Fuel Girls und dem wagemutigen Comedian Johnny Strange.
Für den Hustle in Liverpool hat unser guter Freund Richie Bulldog gesorgt - Entwickler der Hustle Butter Deluxe Tattoopflege und unser M.C. am Wochenende.
Wie auch schon auf der Tattooconvention in Mailand im Februar, hat der von uns gesponserte Künstler Ryan Smith erneut 'Best of Show' gewonnen, wieder in atemberaubender Zusammenarbeit mit dem Künstler Jay Freestyle. Ryan hat auch
den 'People's Choice Award' bei den 2017 UK Tattoo Awards gewonnen.
Der auch von uns gesponserte Damian Gorski gewann die Preise 'Best Large Colour' und '2nd Best of Show' während Mark Bester mit einem Sleeve '2nd Best Large Colour' ergattern konnte.
Wenn ihr wissen möchtet, auf welchen Conventions wir als Nächstes sein werden, schaut einfach auf unsere Social Media Seiten!